Financial Planning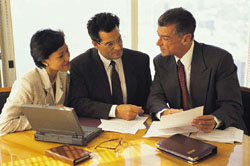 The role of the financial planner has evolved over the years from a transaction oriented approach to a consultative values-based approach. We no longer are the sole bearer of knowledge for our clients: at a click, if they so desire, the client can obtain vast amounts of information on the internet on investment products, insurance carriers, broker dealers and financial planners.
 Our role is to integrate the information the client could obtain and knowledgeably guide them toward a clearer understanding of the products available, and if suitable for their risk tolerance, time horizon, and objectives. We must be the financial problem solver for our client, allowing them to focus on life's other concerns, while having confidence in our experience, to ethically guide them toward achieving their goals. 
All through this Life Planning Process, we will uphold:
Integrity- We will be honest and maintain open lines of communication.  We will never make recommendations for our own personal gain.
Objective Analysis – We will always remain a professional and never allow our personal biases to be a part of your plans.
Fairness –We will disclose any relationship that may be a conflict of interest and possible obstacle toward your goals.
Confidentiality – We will never disclose any information about your accounts to anyone unless you provide a written request.
Steps We Will Follow:
Establish Relationship with Client and Build on Financial Planning Team,  coordinate efforts of other team members-Attorney, CPA, Third Party Administrator, Mortgage Broker.
Gather Information

Identify Needs

Develop Plan

Monitor Plan

Modify Plan (as a result of changing life events)
Areas We Will Address:
Immediate Needs – cash reserves, debt management, credit concerns, preparing a budget, tax issues
Risk Assessment – life, disability, health, long term care insurance
Accumulation –investment needs, children's education, 529 plans,Coverdell ESA's, UGMA accounts, financing for a new home
Distribution – required income needs at retirement and available resources, Social Security, Medicare, other government programs
Estate Planning – wills, trusts, survivor benefit planning, pension maximization, business continuation, probate avoidance, gifting, estate settlement costs, generation skipping transfers
Our Considerations:
Plan development will be a process with consideration to the client's risk tolerance, suitability, time horizon and objectives.

Modern Portfolio Theory where the measurement of risk is through the diversification of the portfolio and not one component of the portfolio

To educate the client on the relationship between the portfolio's rate of return and the client's acceptable risk

The relationship between time horizon and risk variability (standard deviation) and the effects of adverse conditions, life events, liquidity needs in relation to that volatility and those sequence of events and impact on assets
Correlation- the interaction between two funds and degree of movement - A correlation of (1.0) indicates the funds move in the same direction, thus behave as a single asset, and the affects on the total portfolio
Products:
Available through Licensed Representatives of our Cadaret Grant Branch:
Mutual Funds

Variable Annuities

Unit Investment Trusts

Corporate Bonds

Muni's/T-Bills, CD's

Real Estate Investment Trusts (REIT)

Advisory Services

Cash Management Accounts

401k Plans

529 Plans